On November 1, 2018, I held my very first giveaway on Instagram, and the prize was my first mini mermaid illustration done in mixed media. I conducted this contest because I reached a milestone of 500 followers. Reaching this personal achievement, I wanted to give back to my fans and supporters with a physical piece of artwork.
My raffle prize for my giveaway was an original mermaid illustration by me. I drew this image on a 5"x7" watercolor paper and used a combination of graphite pencil, sepia ink pens, watercolor pencils, and watercolor paints. This art style was used as a style test for Tom Bancroft's 2018's MerMay art challenge and are a total of five test mermaids. Two digital and three mixed-media illustrations. I selected the first mixed media illustration as my raffle prize.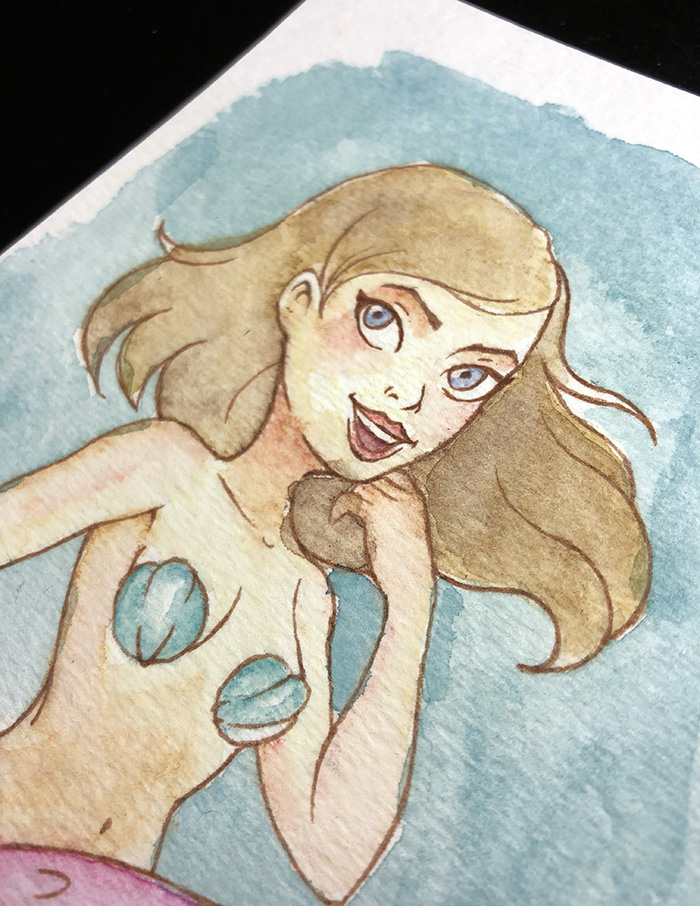 I've never held a raffle giveaway before, and I wasn't sure how to conduct one. Like always I turned to YouTube and to the web. I had three major questions that needed answering.
How to keep track of entry contestants? 
How does one enter and what are the stipulations for the raffle giveaway?
How to conduct a random selection that is fair for everybody that has entered?
The hunt for giveaway ideas
Since this contest was being held on Instagram, my first step for ideas was to look at other users raffle giveaways for inspiration. I read all their descriptions, prizes and rules for their entry. I also looked at how they handled the prize image and the juxtaposition of typography in their post.
Creating the Raffle Giveaway Graphic
From my research, a lot of the raffle giveaway posts contained an image of the raffle prize with bold typography announcing the giveaway. Since Instagram is a visual-based social media platform, the importance for me to create an eye-catching graphic was crucial. This step was easy for me because I am a professional graphic designer with years of Photoshop experience. I used my mini mermaid illustration and added all the text and my business logo in Adobe Photoshop CS6. I made sure the copy was easy to read on top of my drawing and place the print over the negative space.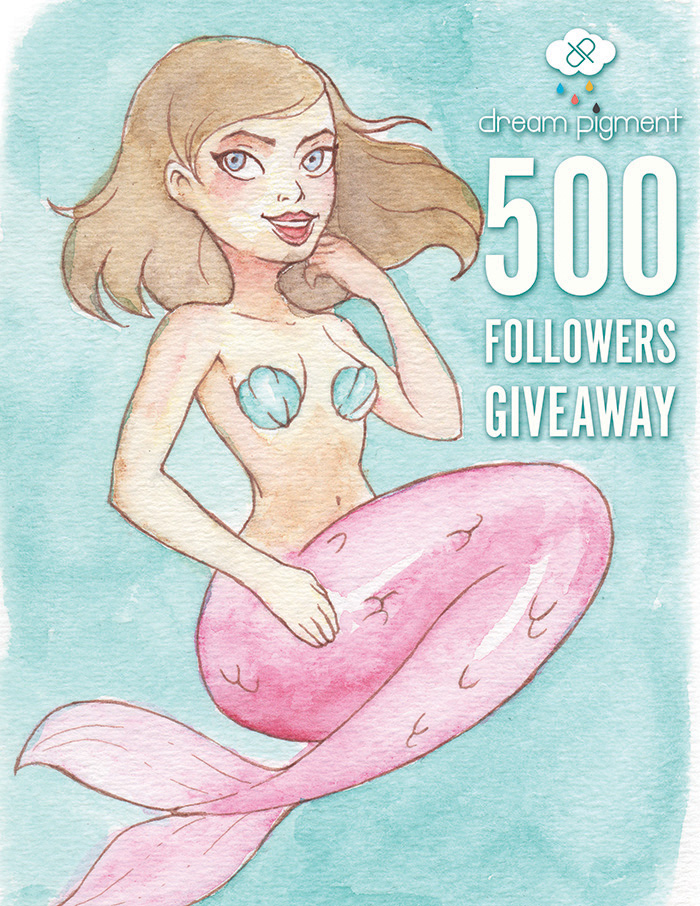 Keeping Track of the Contestants
Many of the Instagram users had the phrase "add a comment to this post" as part of their entry. I found this as a smart way to see how many visitors or followers are reading the directions. This also was a visual track record of each contestant. Other Instagram users had an e-mailing system which to me seemed a little too demanding for my audience. I think the e-mail approach is appropriate if the contest holder has a considerable following. As for me I only had about 500 followers at the time, which is relatively small in the world of Instagram. For me, I wanted something easy and not too demanding for my audience. My ultimate goal was to try to gain as many engaged users as possible and find a new home for my original artwork piece.
During my research for giveaway ideas, the rule "must be a follower" and "tag a friend" was something constant that I saw on a lot of Instagram user's posts. I saw some other rules for entry ideas, but they seemed too extreme for my raffle scenario. In the end, I adopted the rule "must be a follower" and "tag a friend" as part of my mandatory entry. I also added the optional rule "tag a second friend" for an extra contest entry. I felt that this combination helped spread the awareness of my raffle giveaway reasonably well.
Start and Deadline for giveaway
Once I was happy with the image and contest details for my giveaway post. I needed to figure out how long to run the raffle and how to pick a winner.  I decided to go with a month-long contest from November 1, 2018, to December 1, 2018, and now looking back could have been much shorter because the action for the post died within a week. I did do a few reminder posts and stories on Instagram which helped gain a few more entries. In the end, I had about 20 unique participants. As a result, my audience grew about 7%. 
After I collected all the entries, I wrote their Instagram usernames on a word processing application. I looked on YouTube to see how to conduct a random selection. I found out that a website called "enter website here" had a section on their website for such a task.
On December 2, 2018, I conducted my random selection from miniwebtool.com, and it selected cindysexton77 as my mini mermaid illustration winner. I notified her the same day as the raffle giveaway drawing via Instragram direct message. She was super happy and excited about the prize.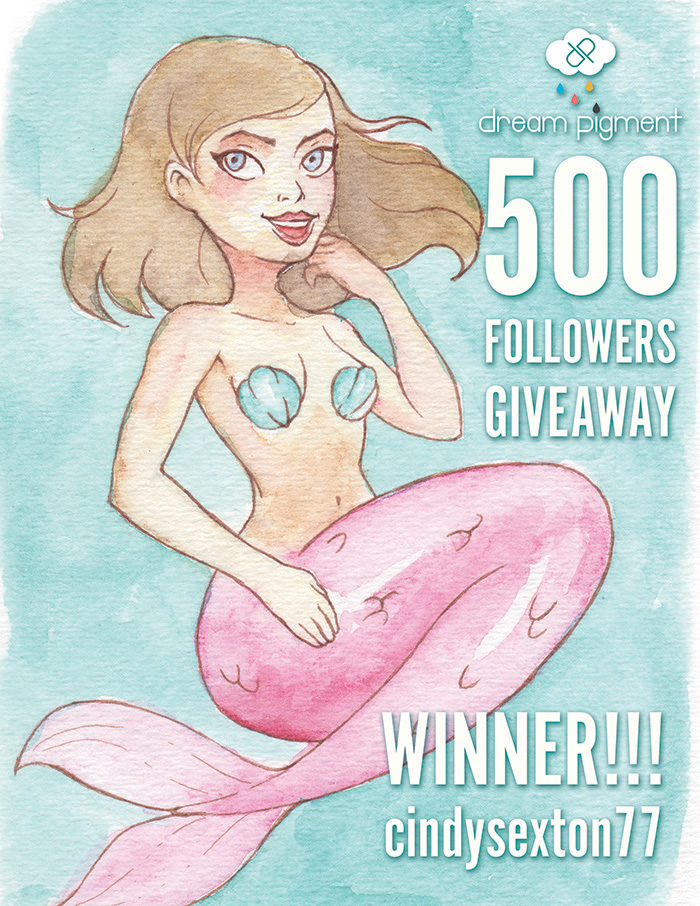 During the entry process, a contestant by the name of mermaidsyphira reached out to me with inquiries about a custom illustration. She requested an 8"x10" mixed media watercolor mermaid piece based on her mermaid persona Syphira. Since she is a mermaid persona with a significant influence on Instagram, I give her a discount on the commission. When she received the piece, she was super excited with the results. Naturally, she posted the artwork on her Instagram giving me much love and credit. She also promoted my work with fellow mermaid personas.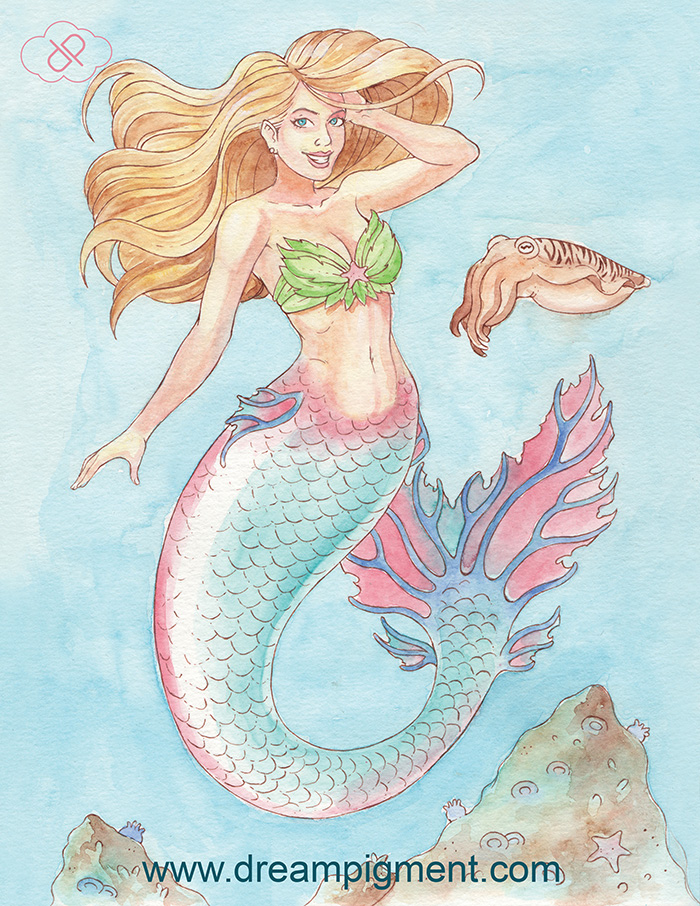 Now that I've completed my first giveaway on Instagram, I am happy with the outcome. I learned how to conduct a raffle giveaway and engage my followers to participate. I've increased my followers by 7% and got a lead for a commission. As I grow my Instagram account, the more I want to engage my fans. I want to give back as much as I can. I will for sure conduct another contest and do further research on user engagement strategies. In the future, I will like to make a guide step by step guide on a raffle giveaway on Instagram for Artist.
Let me know if you would like to see a step by step guide for a giveaway on Instagram at the comment section below! 
Follow me on Instagram!